During the two-day check-in period, runners are encouraged to enjoy the best that Kyoto's hospitality has to offer by visiting the various booths set up by sponsors and other organizations, trying the food stands serving gourmet food from some of Kyoto's most famous restaurants and Japanese tea, and watching a variety of stage performances.
Miyako-Messe (Kyoto International Exhibition Hall)
Friday, February 16 11:30-20:00
Saturday, February 17 10:30-19:00
Exhibition booths
Omotenashi Food Stalls
Treating you to Kyoto's delicacies!
Kyoto's popular restaurants have something to please every runner's palate.
A portion of the proceeds will be donated to regions affected by the Great East Japan Earthquake and other disasters.
Demonstrations of "master skills" in Kyoto's traditional craftwork
Friday, February 16
Come and marvel at the sophisticated skills of Kyoto's master artisans, who will demonstrate the arts of painting Japanese candles, making Kyoto-style spinning tops, working with bamboo, and making prayer beads. Don't miss this unique opportunity!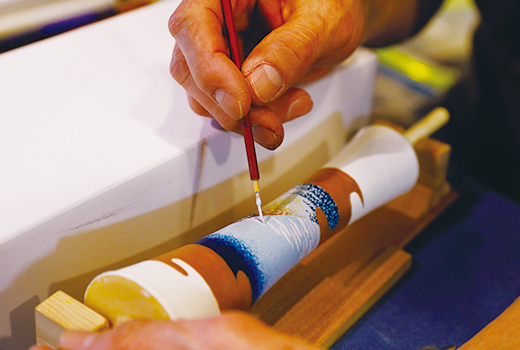 Tea ceremony by the Urasenke school:
500 yen (Japanese confectionery included)
Saturday, February 17
Feel the true spirit of Japan. Each and every bowl of tea will be served with the greatest hospitality.
All proceeds will be donated to regions affected by the Great East Japan Earthquake and other disasters.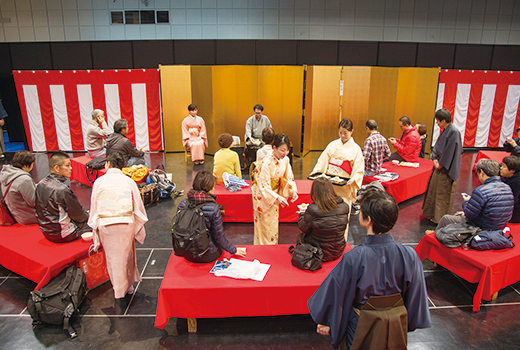 Official Shop
Friday, February 16 – Sunday, February 18
Friday, February 16 – Sunday, February 18
Only runners are allowed entry on Sunday, February 18.
Kyoto Marathon original goods (T-shirts, stationery, etc.) are available for purchase.
Exlusive items for Kyoto Marathon jointly offered by Kyukyodo and SOU SOU, two famous brands from Kyoto, are also available.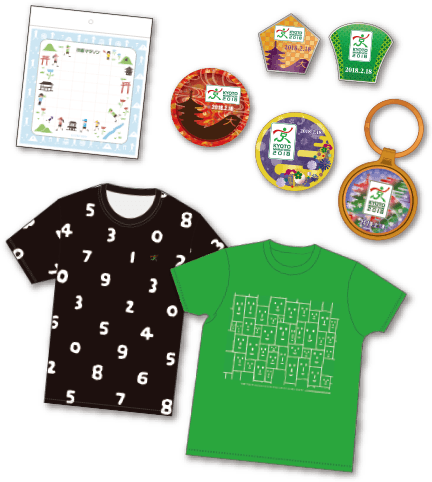 Assistance for Reconstruction from the Great East Japan Earthquake
Experiencing Tohoku in Kyoto
What could be better than appreciating the beautiful natural environment, rich cultural heritage, and delightful land and ocean delicacies of Tohoku? And, being able to support the earthquake reconstruction efforts while doing it! Special local foods and products from Fukushima, Miyagi, and Iwate Prefectures will be showcased, together with tourism information on those areas.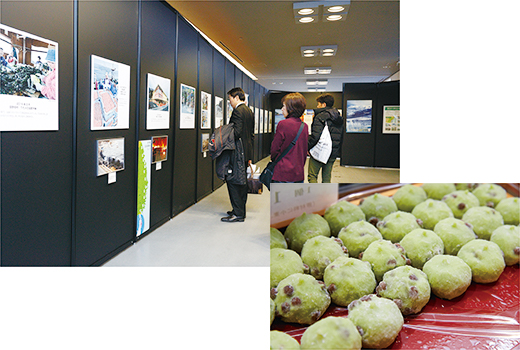 Create your own inkstone!
World-renowned sculptor Junkyu Muto will help you to create an inkstone out of stone from Ogatsu in the city of Ishinomaki, Miyagi Prefecture. A miniature model of Mr. Muto's disaster memorial monument and informative displays about his works will also be on show.
- Material cost: from 5,000 yen
- The inkstone will be delivered to your home at a later date, after having been professionally finished.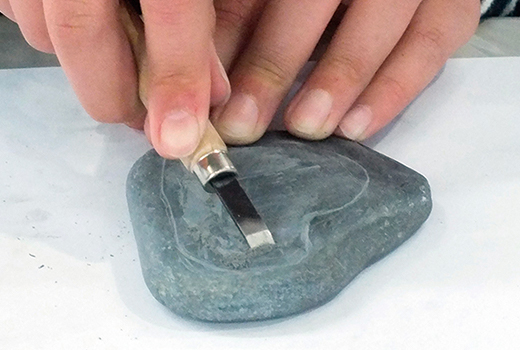 Event Stage
Friday, February 16
"Trainers for ALL" self-conditioning workshop
【1】15:00~ 【2】17:00~ 【3】18:30~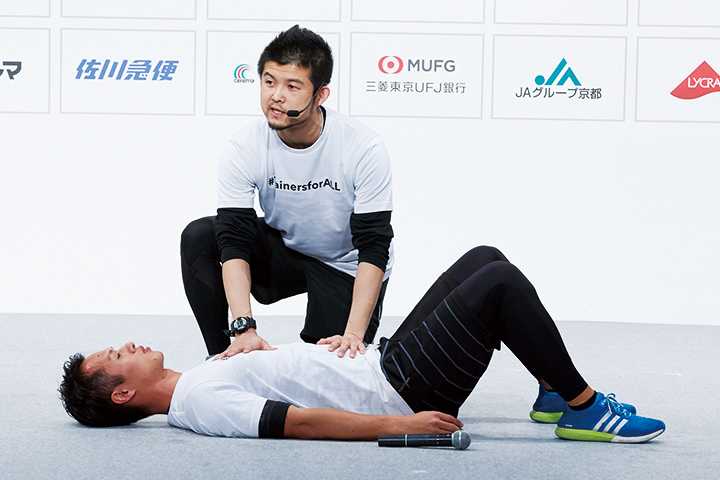 Phiten Self Body Care Workshop: "Finish the Kyoto Marathon Safe and Sound!"
【1】16:00~ 【2】18:00~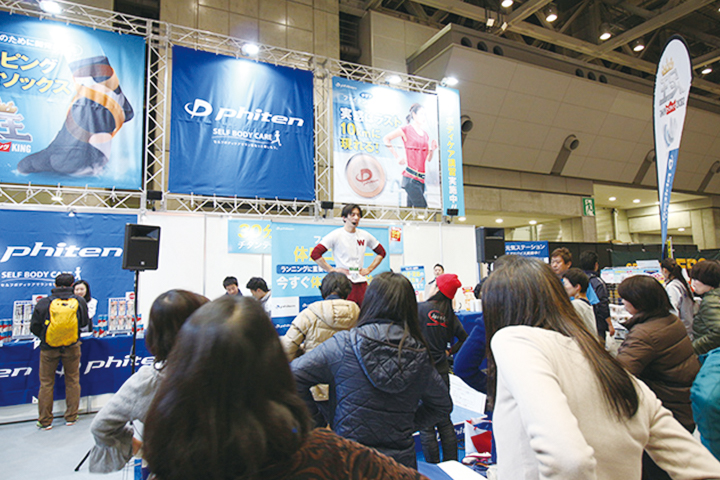 Saturday, February 17
11:00〜11:20
Drink a toast to the runner's success with Japanese rice wine
– Sake for stronger bonds between Kyoto and Tohoku –
Free sake offered to visitors (while stocks last)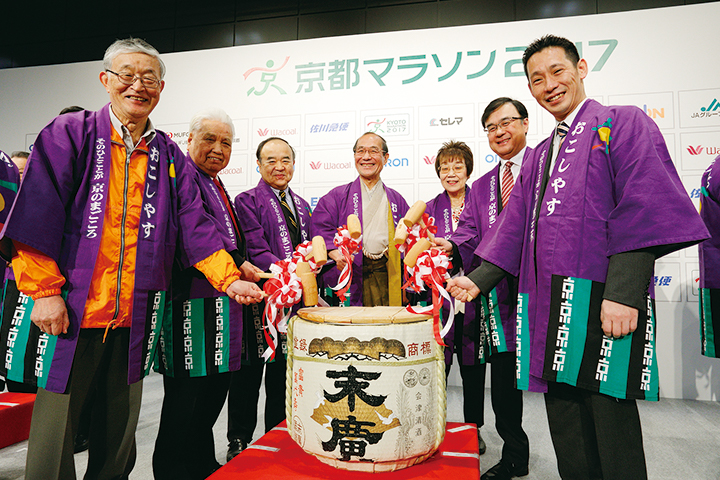 11:45〜12:15
Talk show
TV personality Kenji Moriwaki talks about running with athlete Masako Chiba (bronze medal winner at the World Championships in Athletics, Athens 1997).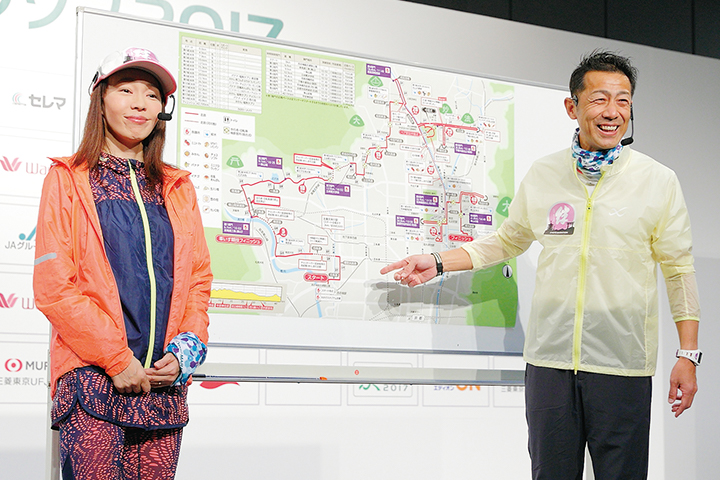 14:00~19:00
α-STATION「J-AC TOP40 SPECIAL LIVE SHOW in KYOTO MARATHON 2018」
Live radio broadcast