The course starts at Nishikyogoku Athletic Park and finishes at a point near Heian-jingu Shrine. Passing by seven UNESCO World Cultural Heritage sites, runners can fully enjoy the attractions of Kyoto's picturesque scenery, including spectacular views of the five mountains on which huge bonfires are lit during the Gozan no Okuribi summer festival.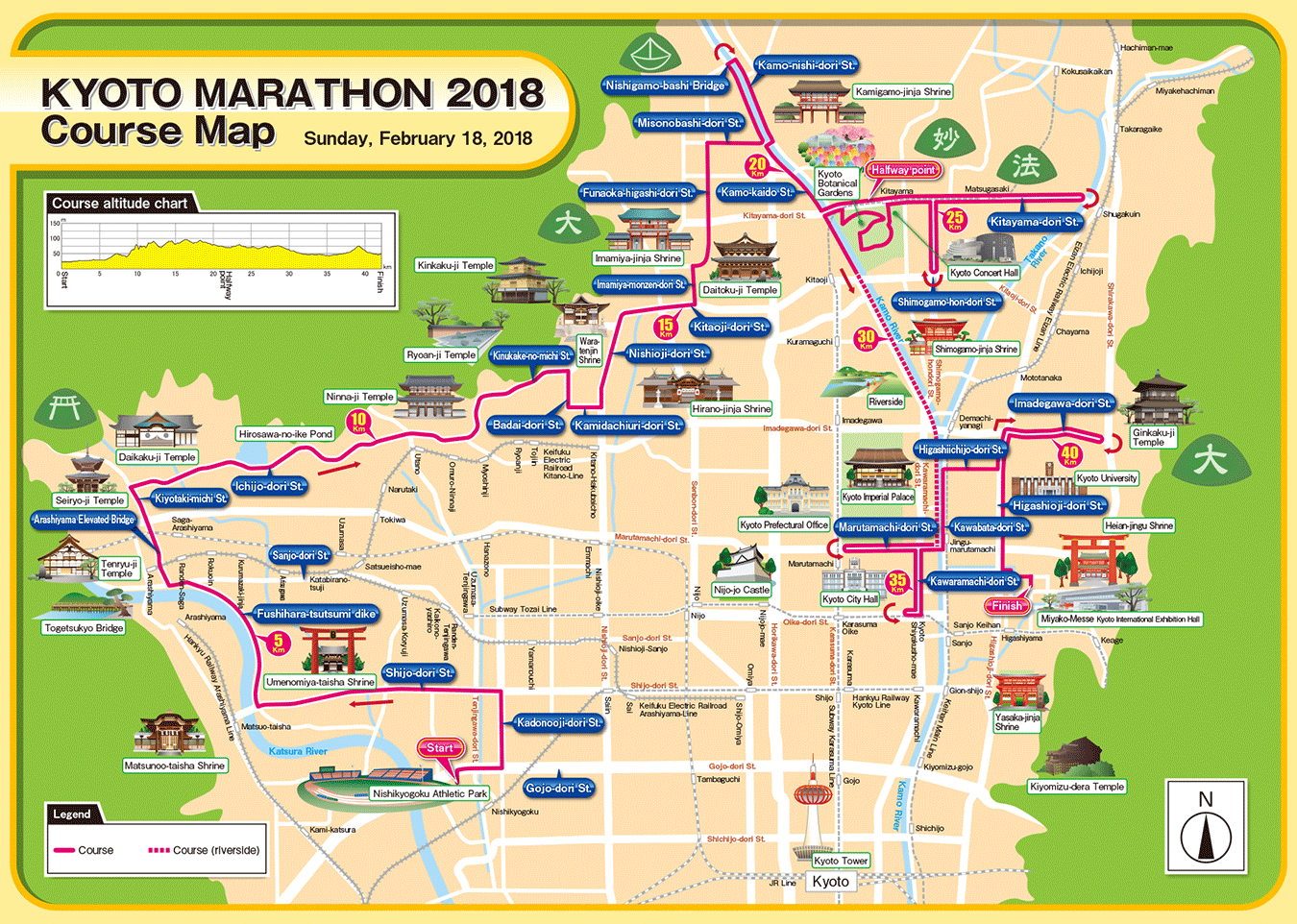 Running the course while enjoying the
attractions that only Kyoto can offer!
Attraction #1
Enjoy the Features of Kyoto
Located along the course are the seven UNESCO World Cultural Heritage sites of Tenryu-ji Temple, Ninna-ji Temple, Ryoan-ji Temple, Kinkaku-ji Temple, Kamigamo-jinja Shrine, Shimogamo-jinja Shrine, and Ginkaku-ji Temple. Runners will also encounter many other tourist attractions including Umenomiya-taisha Shrine, Matsunoo-taisha Shrine, Seiryo-ji Temple, Daikaku-ji Temple, Hirano-jinja Shrine, Wara-tenjin Shrine, Daitoku-ji Temple, Imamiya-jinja Shrine, and Heian-jingu Shrine.
Attraction #2
Kyoto – City of Beautiful Scenery
Runners follow a course along the Katsura River with a view of Togetsukyo Bridge in Arashiyama, and then pass through the picturesque Sagano area and Hirosawa-no-ike Pond. The course then leads to Kinukake-no-michi Road, which has been famous for its scenic beauty for over 1,000 years, passes through the Kyoto Botanical Gardens, extends along the Kamo River, a symbol of Kyoto, and then takes the runners on a trip through history in the verdant Kyoto Gyoen National Garden(Kyoto Imperial Place). Yet another major thrill of the Kyoto Marathon is the view of the five mountains that are the focus of the Gozan no Okuribi festival. During the festival, huge bonfires are lit on the mountains to form the Chinese characters "大" (meaning "large" or "great") and "妙法" (meaning "Buddha's teachings") and two familiar shapes (a torii shrine gate and a boat).
Attraction #3
They cheer you on!
Kyoto – City of Universities
With as many as 10 university campuses being located along the course, many students get involved as either runners, volunteers, or members of the various cheerleader groups, making the event more exciting.
Attraction #4
Kyoto – City of Road Races
As with the All-Japan High School Ekiden Championship and the Empress's Cup (Inter-Prefectural Women's Ekiden) races, which have been gateways to success for future world-class, top athletes, the course starts at Nishikyogoku Athletic Park and continues along main streets in the ancient capital, such as Nishioji-dori Street, Higashioji-dori Street, and Marutamachi-dori Street.